Certified Jewelry Buyers & Appraisals While-U-Watch
Selling Your Jewelry? Get a Free Consultation with Orange County's Most Trusted Certified Expert

David R. Boggess, G.G.
Graduated at the top of his class as a Graduate Gemologist from the GIA.
Senior Member of the Accredited Gemologists Association (AGA).
Senior Member of the National Association of Jewelry Appraisers (NAJA).
Diploma Member of the Gemological Institute of America Alumni Association (GIA).
AGA Certified "Gem" (Gemologist) Lab in the Orange County - Southern California region.
Lifetime Member, National Eagle Scouts Association (NESA).
Co-designed the #1 Jewelry Appraisal Software used by more jewelry appraisers all over the world. 
David has over 40 Years' experience providing jewelry appraisals to over 80,000 consumers, jewelry stores, insurance companies, and financial institutions in Southern California.  David has been recommended by: Tiffany & Co., Cartier, Van Cleef & Arpels, Bvlgari, Neiman Marcus, Nordstrom, Saks Fifth Avenue, Black Starr & Frost, Bailey Banks & Biddle, Farmers Insurance, State Farm, Allstate, AAA, Bank of America, Wells Fargo, Union Bank, First American Trust, Northern Trust Bank, and dozens of other major corporations. 
David helps you make informed decisions by providing you with honest-straightforward facts, as evidenced by the numerous, diplomas, awards, and letters of recommendation lining his office walls.  David not only gives you highly accurate assessments of value; he explains in detail how he arrived at that value to help you fully understand the process of selling your jewelry.  
David offers free no obligation consultations if you are selling your jewelry. There is no charge even if you don't sell to David.  Call or Text David at (949) 727-3411 for an Appointment. 
Most consumers have never sold jewelry or diamonds before, so they often wonder how it works.  First, you call or text David to make an appointment as he does not take walk-ins, this way he can give you his full attention with complete privacy.  When you come in for your appointment, David will first carefully examine your jewelry while you watch, your jewelry will never leave your sight.  Then he will explain every detail about your jewelry that affects its value, and David will tell you the maximum value that your jewelry can be sold for.  That's it, straightforward and simple.  
Some jewelry buyers have you mail them your jewelry for buying, or they take it out of your sight to "clean it or inspect it".  With David your jewelry never leaves your sight, not even for one second; the entire evaluation process is done While-U-Watch, removing any possibility that your jewelry or diamonds could be switched.  You will always meet with David personally, and he buys and pays immediately.  There are no games, no gimmicks, no nonsense.      
What makes David different from every other jewelry buyer is his depth of knowledge and expertise, this enables him to explain in great detail why your jewelry is valued for what it is, and you will often see this comment is his reviews.  He explains gemological value concepts in layman's terms which takes the mystery out of selling your jewelry, this way you can confidently make a proper decision about selling.  David shows you microscopic views of your jewelry and he uses visual aids and reference materials to teach you how the grading and valuing process works, so you can be absolutely 100% certain about how your jewelry's value was arrived at.  
Some of David's clients travel long distances to see him because no other jewelry buyer, diamond buyer, or jewelry appraiser in Southern California can match David's top-notch expertise, and reputation for the highest integrity.  
David buys gold and platinum jewelry; rings, earrings, bracelets, pendants, necklaces, chains, watches, and estate jewelry.  David buys loose diamonds and jewelry mounted with diamonds.  He also buys colored gemstone jewelry.  You can sell him just one piece of jewelry or sell an entire estate of jewelry.  When David purchases your jewelry, diamonds, or gemstones, he pays you right then, you walk out of his office paid in full.  
Looking to sell your gold jewelry?  David has the Thermo Scientific Niton DXL Advanced XRF Gold Tester, which gives the exact gold content of your jewelry without damaging it. Nearly every gold buyer uses the inexpensive $50 "scratch acid test", meaning they damage your jewelry by scraping it or filing it down to test it with acid, which gives only a rough approximation of the actual gold content. The $16,750 Niton DXL Advanced XRF Gold Tester provides a digital readout of the exact gold content of your jewelry in seconds without even touching it, and you get to see the results for yourself while watching your jewelry the whole time through the window on the device. The Thermo Scientific Niton DXL Advanced XRF Gold Tester is the most accurate gold testing device available.  
See the rest of David's Certified Gemological Laboratory, it is the most advanced in Orange County.  Click Here... Why is David's the #1 Certified Gemological Laboratory in Orange County?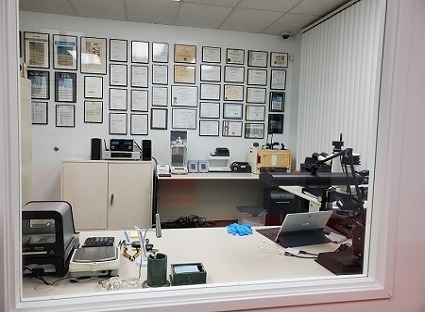 David Boggess, November 1969
Jewelry Buyers | Diamond Buyers | Gold Buyers | Jewelry Appraisals | Diamond Appraisals | Gemologist
Proudly Serving all of Southern California, including Orange County, Los Angeles County, San Diego County, Riverside County, and San Bernardino County.


Copyright © 2022. All Rights Reserved.